In this article Sean outlines a fine method for making the most out of what gets shipped out. Along the way he introduces us to casket lock hardware (new to me), some fun ways to nest and pack in a crate, a cover use of gaffers tape, and how to use the to pull cloth taut and stay that way. Thanks Sean!
In the early 2010s I was inspired to devise a pedestal that doubled as a crate. This idea came from working on two Vitra Design shows that traveled with knock-down peds which were assembled by embedded casket lock hardware. These were terrific in look and stability, but added many more heavy but delicate objects to package and transport. I wondered for 12 years how to achieve a more streamlined, compact, durable means of transporting things in the peds as crates or making crates that could become peds.
Several projects almost provided opportunities to fabricate multi-function casements, but timing, budget or shop capacity never aligned for production. Also, many bosses saw only risk and trouble, or couldn't understand the technical aspects to approve the time to develop such a creation. I did design a set of 15 peds, created for a to-be-travelling show, which were made of Salt Board (high pressure textured laminate on recycled chipboard) with the intention that they were extremely durable, looked authentic, and matched SITEs standards of transport of display furnishings. When flipped and padded out properly, these could at least travel their accompanying bonnets, but that was all work to be done at a much later date than the exhibition schedule allowed.
We all know that everything has a right time and place. Preparing to send art with WCC to the Seattle and Hamptons Art Fairs in 2022 we needed a compact way to travel and display a medium size, durable wood sculpture. We also had a stockpile of crates, one of which perfectly fit the Gil Bruvel sculpture both as a crate and sales stand. Being that this was to go to two art fairs, we also wanted a solution that was transformable quickly and sustainably = no paint or high grade finishes, mostly single handler managed.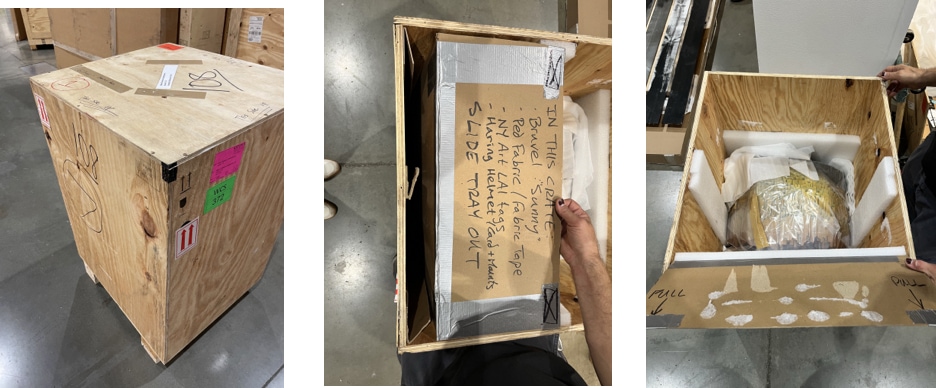 The first phase of this project was to develop a low impact method for one person to load/unpack the 3' diameter 100# object. Slider board loading was chosen as the best method, using ram-board (compressed paper-pulp board) lined with 1/8" ethafoam sheeting for board and skids beneath, and lining the crate walls with guide strips of 1-2" ethafoam. Acidic mitigation was not a goal of this production; in most cases archival materials should be considered for more delicate objects (I.e.: double layer coro-plast or blue-board, marvel-sealed MDF/O). We had a stash of ram-board large enough, the crate walls were raw plywood for a wooden object, and this was not going to be in the crate for more than 2 weeks per trip.
For loading the crate is laid on one marked side, the art is placed on its back on the slider board with minor padding. Then the art is slid into place at the bottom of the crate aligned to the wall pads. The loaded crate is stood upright, the object is further padded into position with tyvek pillows full of styronuts.

A bundle of white fabric (plus other wrapping supplies) rides above the art – this will be used to dress out the crate for display. There was an unexpected void above the sculpture that perfectly fitted another much higher value and lighter piece that could ride on the foam side slats and ram-board pull flap.
Continuing on this theme of multi-purposing, the pedestal for a smaller artwork was blanket wrapped and used (upside down) as a crate for collapsible furniture, print racks, packing supplies, and a dollie – to which this was all strapped for simple handling.

Coming back to our Sunny crate/ped – the only step requiring two people is to lift the art off the slider board and onto the fabric dressed pedestal, or off display and onto the opened slider panel for packing. Padding out the art and closing the crate, or initial opening, tipping, and fabric dressing are all easy one person activities. Dressing out the empty crate was done by tightly folding two layers of white cotton fabric over the top and sides with double stick tape at seams and bottom. Running a line of tape along each full length edge and surface allowed for a smooth pull around the box and for crisp folds at the top, which required a bit of tucking of layers.
The crate had 2" high skid feet that were covered with white gaff tape, which also helped create a lifted toe kick presentation. I think I was as happy as the artwork for this fairly sunny solution.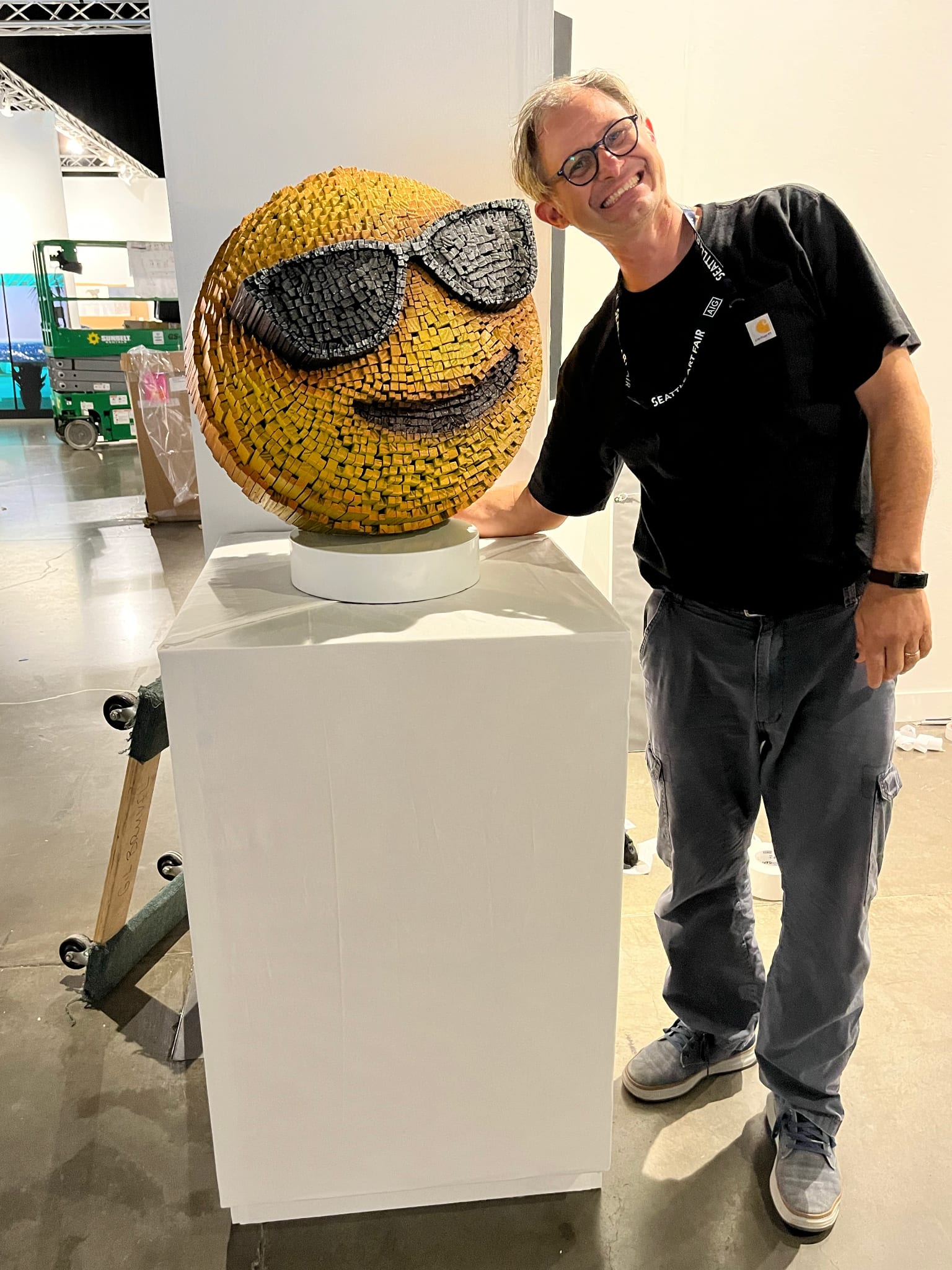 Have you used a crate in an interesting way? Do you have a favorite fabric for wrapping? Put it in the comment below.
Sean works with West Chelsea Contemporary, here is a bit about them:
West Chelsea Contemporary is a world-class gallery offering museum-quality art in Austin, Texas, and New York City, focusing on 20th century and contemporary art predominantly in American, Asian, and European post-war movements. West Chelsea Contemporary opened in October of 2020 under the direction of Lisa Russell, who has operated this gallery since founding Russell Collection in 2002. With this gallery rebrand, her vision is for West Chelsea Contemporary to satisfy the evolving demographic and style of Austin's culture by showcasing everything from mid-career and emerging artists to legends like KAWS, Yayoi Kusama, Keith Haring, Shepard Fairey, Andy Warhol, Blek Le Rat, Mr. Brainwash, FionaRae, Roy Lichtenstein, Takashi Murakami and more. West Chelsea Contemporary clients are assisted by an expert staff dedicated to providing the highest level of service. For more information, please visit https://wcc.art/ or @wcc.art on Instagram.
Latest posts by Sean Harrison
(see all)