This the main user group. All existing registered users are automatically assigned this group. Groups can be modified or deleted by the admin.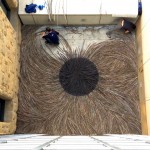 If you're a fan of Andy Goldsworthy you will love this video.  Notice how the install crew has to work their way out of the space and at the very last second has to drop the final sticks from the ledge.  Enjoy
Richard Karson

does not have any friends yet.