This the main user group. All existing registered users are automatically assigned this group. Groups can be modified or deleted by the admin.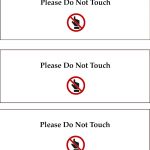 Locked eyes on this sign as it was hanging in the second floor galleries of the Last Bookstore in Los Angeles. The placement might not fit at a museum, but let's think with this approach to communication. I feel this much more than the "touchy subject" genre of wall texts that attempt to dissuade our more tactile friends through the use of complete sentences, piling up into lengthy paragraphs, all set in glorious grayscale. One of the impulses that could lead someone to touch a work of art is feeling like their eyes were just drawn to it. How can we draw those same eyes to a clear message?
Iceland. By design, many of the hinderances that would keep one from making it all of the way to Iceland have been removed. Instead of relying on native travelers or those headed specifically into Iceland, Icelandair is a low cost carrier that sells the idea of Iceland as an attractive stopover destination for those traveling to Europe or North America.
Carl Schmitz

does not have any friends yet.