This the main user group. All existing registered users are automatically assigned this group. Groups can be modified or deleted by the admin.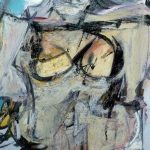 A few tips can be found in this story, a few things you can do to prevent a similar occurrence at your museum. Aside from a couple solid tips (spoiler using cameras is one) it's a weird and fun story that ends with the return of the work (sorry was that a spoiler as well?) This was originally covered by The Washington Post. A small-town couple left behind a stolen painting worth over $100 million — and a big mystery For over 30 years Jerry and Rita Alter hid the secret of how they came to own a piece by Dutch expressionist artist Willem de Kooning, which went missing in 1985 Jerry and Rita Alter kept to themselves. They were a lovely couple, neighbours in the small New Mexico town of Cliff would later tell reporters. But no one knew much about them. They may have been hiding a decades-old secret, pieces of which are now just emerging. After the couple died, a stolen Willem de Kooning painting with an estimated worth of $160m (£123m)  was discovered in their bedroom. More than 30 years ago, that same painting disappeared the day after Thanksgiving from the University of Arizona Museum of Art in Tucson. And on Wednesday, the ArizonaRepublic newspaper reported that a family photo had surfaced, showing that the day before the painting vanished, the couple was, in fact, in Tucson. The next morning, a man and a woman would walk into the museum and then leave 15 minutes later. A security guard had unlocked the museum's front door to let a staff member into the lobby, curator Olivia Miller told National Public Radio (NPR). The couple followed. Since the museum was about to open for the day, the guard let them in. The man walked up to the museum's second floor while the woman struck up a conversation with the guard. A few minutes later, he came back downstairs, and the two abruptly left, according to the NPR interview and other media reports. Sensing that something wasn't right, the guard walked upstairs.  There, he saw an empty frame where de Kooning's "Woman-Ochre" had hung. At the time, the museum had no surveillance cameras. Police found no fingerprints. One witness described seeing a rust-colored sports car drive away but didn't get the license plate number. For 31 years, the frame remained empty. In 2012, Jerry Alter passed away. His widow, Rita Alter, died five years later. After their deaths, the painting was returned to the museum. The FBI is investigating the theft. Did the quiet couple who lived in a three-bedroom ranch on Mesa Road steal "Woman-Ochre" and get away with it? De Kooning, who died in 1997, was one of the most prominent painters of the mid-century abstract expressionist movement. "Woman III," another painting in the same series as "Woman-Ochre," sold for $137.5m (£109m) in 2006. The works of de Kooning remain among the most marketable in the world. The Alters had moved to Cliff (population 293) in the late 1970s or early 1980s, according to the Silver City Daily Press. H Jerome Alter, who went by Jerry, had been a professional musician and a teacher in New York City schools before retiring to New Mexico. He wrote under "About the author" in "Aesop's Fables Set in Verse," a book he published in 2011. "His primary avocation has been adventure travel," the biographical sketch says, noting that he had visited "over 140 countries on all continents, including both polar regions." Rita Alter, who died in 2017 at the age of 81, had worked as a speech pathologist at the local school district after the couple moved to New Mexico, the Daily Press reported. Her former co-workers remembered her as "pleasant but quiet," a friendly woman who was good with children but didn't volunteer much information about her life. In 2011, a year before his death, also at the age of 81,  Jerry published a book of short stories, "The Cup and the Lip: Exotic Tales." The stories were "an amalgamation of actuality and fantasy," he wrote in the preface. Though none were literary masterpieces, one stands out in the wake of the de Kooning discovery. "The Eye of the Jaguar," concerns itself with Lou, a security guard at an art museum. One day, a middle-aged woman and her 14-year-old granddaughter show up. The older woman asks Lou about the history of a prized emerald on display. Six months later, she and her granddaughter return, then leave in a rush. "Wow, those two seem to be in a hurry, most unusual for visitors to a place such a this," Lou thinks. He reinspects the room and realises the emerald is gone. Running to the door, he sees the pair speeding away and runs out to stop them. The older woman floors the accelerator, crashing into Lou and killing him. Then the two speed off, leaving behind "absolutely no clues which police could use to even begin a search for them!" Jerry Alter's fictional tale ends with a description of the emerald sitting in an empty room. "And two pairs of eyes, exclusively, are there to see!" it concludes. He could just as easily have been describing the de Kooning. But nobody thought of that until the painting was discovered in the Alters' bedroom, where it had been positioned in such a way that you couldn't see it unless you were inside with the door shut. After Rita Alter died, her nephew, Ron Roseman, was named executor of the estate. He put the house on the market and began liquidating its contents. On 1 August 2017, antique dealers from the neighboring town of Silver City came to see what was left. One of the men, David Van Auker, would later recall at a news conference that he spotted "a great, cool mid-century painting." They bought it, along with the rest of the Alters' estate, for $2,000 (£1,500). Silver City, an old mining town near the Gila National Forest, has a high concentration of artists. So it didn't take long for someone who recognized the painting's significance to wander into Manzanita Ridge Furniture and Antiques. "It probably had not been in the store an hour before the first person came in and walked up to it and looked at it and said, 'I think this is a real de Kooning,' " Van Auker told KOB 4, a TV station in Albuquerque. "Of course, we just brushed that off." Then another customer said the same thing. And another. It was becoming evident that the painting might be worth more than they had originally thought. Van Auker and his partners, Buck Burns and Rick Johnson, hid it in the bathroom. Once the painting had been secured, Van Auker did a Google search for de Kooning. That's when he spotted an article about the theft of "Woman – Ochre" and called the museum. "I got a student receptionist, and I said to her, 'I think I have a piece of art that was stolen from you guys,' " he told Dallas-based news station WFAA. "And she said, 'What piece?' And I said, 'The de Kooning.' And she said, 'Hold, please.' " Miller, the museum's curator, told WFAA that what made her pause was when Van Auker described how the painting had cracked, as if it had been rolled up. It was a detail that no one could have invented. The dimensions were an inch off from "Woman – Ochre," which corresponded with it being cut out of the frame. Van Auker took the painting home and stayed up all night with his guns, he told Tucson Weekly, getting startled every time he heard a branch scrape against the side of the house. The next night, a delegation from the museum arrived. When Miller walked in, Van Auker told the Daily Press, the room turned silent. "She walked up to the painting, dropped down on her knees and looked. You could just feel the electricity," he recalled. Authentication would later confirm that it was a perfect match for the missing de Kooning. Over the past year, a handful of clues potentially linking the Alters to the theft have surfaced. Several people told The New York Times that they had a red sports car, similar to the one spotted leaving the museum. The car also appears in home movies obtained by WFAA. Some of the couple's photos show Rita in a red coat like the one that the woman at the museum had been wearing, local news channel KOB 4 reported. And Ruth Seawolf, the real estate agent who put the Alters' house on the market, told the Silver City Sun News that she had taken home a luggage set and, inside, found glasses and a scarf that match the police description. "In the Alters' day planner from 1985, they took meticulous notes about what they ate, where they went, and the medications they had," KOB 4 points out. "On Thanksgiving 1985, they mysteriously left it blank." And now there's the family photo showing they were in Tucson the night before the painting was stolen. The investigation has been underway for a year now. The FBI has declined to comment until the case is closed. People who knew the Alters find it hard to think of them as criminal masterminds. And opinions are mixed about whether a sketch of the suspects resembles the couple. "Composite sketches, in hindsight, resemble the faces in the Thanksgiving photo, down to their position side by side," the Arizona Republic wrote. The New York Times, on the other hand, theorized: "The sketch of the female suspect – described at the time of the theft as being between 55 and 60 years old – bears a resemblance to Mr Alter, who was known as Jerry and was then 54. And the sketch of the young man – described at the time as between 25 and 30 years old – bears a resemblance to his son, Joseph M Alter, who was then 23." The Alters had two children, Joseph and Barbara. Reporters from multiple news outlets, including The Washington Post, have been unable to locate either child. Several of the couple's acquaintances told the Times that Joseph Alter has severe psychological problems, and has been institutionalised on and off since the 1980s. Jerry Alter's sister, Carole Sklar, told The New York Times that the idea that her brother, his wife, or their son could have stolen the painting was "absurd," as was the theory that her brother disguised himself in women's clothing. "I can't believe Rita would be involved in anything like that," Mark Shay, one of her former co-workers, told the Daily Press. "I could see them buying a painting not knowing where it originally came from, maybe." Museum officials, however, told the Arizona Republic that the painting only appears to have been reframed once during the 31 years it was missing, suggesting it had only had one owner during that time. Something else doesn't add up. Jerry and Rita Alter worked in public schools for most of their careers. Yet they somehow managed to travel to 140 countries and all seven continents, documenting their trips with tens of thousands of photos. And when they died, they had more than a million dollars in their bank account, according to the Sun News. "I guess I figured they were very frugal," their nephew, Ron Roseman, told WFAA. Roseman couldn't be reached for comment earlier this week. But not long after "Woman – Ochre" resurfaced, he told ABC13 that he couldn't imagine that his aunt and uncle had stolen the painting. "They were just nice people," he said.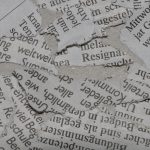 In reading this Politico article by Annie Karni and diving further around the net I was struck how the President was made aware of the tearing issue and the extra labor and time required to fix the stunt, but continues to rip things up anyway. The guys who have to put this stuff back together wish they could do more meaningful work, but this is what they are tasked with, pouring through garbage cans to preserve presidential history. "Sad" as someone would say. Scotch tape does provide transparency for two-sided documents, but I'm wondering if these guys could use some hinging tissue tape to speed things along for single sided pieces while alleviating the acid that the transparent tape provides. It's a funny preservation issue. If you want to reach out to these guys to offer tips and tricks or simply offer moral support, they can be reached by: Mail: The Office of Management and Budget 725 17th Street, NW Washington, DC 20503 Facsimile: 202-395-3888 Information and Directory Assistance: 202-395-3080 Media Inquiries: 202-395-7254  or [email protected] …And now on to Ms. Karni's article: Meet the guys who tape Trump's papers back together The president's unofficial 'filing system' involves tearing up documents into pieces, even when they're supposed to be preserved. Solomon Lartey spent the first five months of the Trump administration working in the Old Executive Office Building, standing over a desk with scraps of paper spread out in front of him. Lartey, who earned an annual salary of $65,969 as a records management analyst, was a career government official with close to 30 years under his belt. But he had never seen anything like this in any previous administration he had worked for. He had never had to tape the president's papers back together again. Armed with rolls of clear Scotch tape, Lartey and his colleagues would sift through large piles of shredded paper and put them back together, he said, "like a jigsaw puzzle." Sometimes the papers would just be split down the middle, but other times they would be torn into pieces so small they looked like confetti. It was a painstaking process that was the result of a clash between legal requirements to preserve White House records and President Donald Trump's odd and enduring habit of ripping up papers when he's done with them — what some people described as his unofficial "filing system." Under the Presidential Records Act, the White House must preserve all memos, letters, emails and papers that the president touches, sending them to the National Archives for safekeeping as historical records. But White House aides realized early on that they were unable to stop Trump from ripping up paper after he was done with it and throwing it in the trash or on the floor, according to people familiar with the practice. Instead, they chose to clean it up for him, in order to make sure that the president wasn't violating the law. Staffers had the fragments of paper collected from the Oval Office as well as the private residence and send it over to records management across the street from the White House for Lartey and his colleagues to reassemble. "We got Scotch tape, the clear kind," Lartey recalled in an interview. "You found pieces and taped them back together and then you gave it back to the supervisor." The restored papers would then be sent to the National Archives to be properly filed away. Lartey said the papers he received included newspaper clips on which Trump had scribbled notes, or circled words; invitations; and letters from constituents or lawmakers on the Hill, including Senate Minority Leader Chuck Schumer. "I had a letter from Schumer — he tore it up," he said. "It was the craziest thing ever. He ripped papers into tiny pieces." Lartey did not work alone. He said his entire department was dedicated to the task of taping paper back together in the opening months of the Trump administration. One of his colleagues, Reginald Young Jr., who worked as a senior records management analyst, said that during over two decades of government service, he had never been asked to do such a thing. "We had to endure this under the Trump administration," Young said. "I'm looking at my director, and saying, 'Are you guys serious?' We're making more than $60,000 a year, we need to be doing far more important things than this. It felt like the lowest form of work you can take on without having to empty the trash cans." The White House did not comment on the president's paper-ripping habit. According to Young and Lartey, staffers in the records department were still designated to the task of taping together the scraps as recently as this spring. Lartey and Young described a system that stands in stark contrast to how records management was conducted under the Obama administration, which ran a structured paperwork process. "All of the official paper that went into [the Oval Office], came back out again, to the best of my knowledge," said Lisa Brown, who served as President Barack Obama's first staff secretary. "I never remember the president throwing any official paper away." Brown described a regimented process for dealing with presidential records. She said all paper that was going to the president "would go in a folder with labels — one color for decision memos, for example, and another one for letters. Documents would go out to the president and then come back to the staff secretary's office in the same folder for distribution and handling. It was a really structured process." Brown said Obama had an eye on preserving documents for history — even ones he was not technically required to send to the National Archives. "I remember the day he sent down to me his race speech from the campaign, handwritten," she said. "All of the campaign material didn't need to come into the White House or go to Archives." Trump, in contrast, does not have those preservationist instincts. One person familiar with how Trump operates in the Oval Office said he would rip up "anything that happened to be on his desk that he was done with." Some aides advised him to stop, but the habit proved difficult to break. Despite the president's apparent disregard of the Presidential Records Act, sources said, aides around him have tried to take an overly inclusive approach to what would be considered a presidential record. Anything that's not purely personal — even just a note handed to an aide at a rally that was passed on to Trump — has been considered a record deemed worthy of being sent to records, where staffers could make sure the White House was being compliant with the law. That team is now smaller, after many of the career officials were cleared out earlier this year. Lartey, 54, and Young, 48, were career government officials who worked together in records management until this spring, when both were abruptly terminated from their jobs. Both are now unemployed and still full of questions about why they were stripped of their badges with no explanation and marched off of the White House grounds by Secret Service. Irene Porada, the head of human resources who personally terminated both men, did not respond to an email requesting comment. A White House spokesman also did not respond to a request for comment about the terminations. Young agreed to speak to POLITICO after this reporter contacted him to inquire about his termination. He then put this reporter in touch with Lartey, whose story of his dismissal — and the work he was asked to do during his final year of work under the Trump administration — corroborated Young's account. Both men originally agreed to speak to POLITICO for a story about why they believe they were unfairly terminated from jobs they expected to hold onto until they retired. Both said they were forced to sign resignation letters without being given any explanation for why they were being dismissed. In the course of explaining what their work at the White House entailed, however, both described in detail the process of taping back together scraps of paper that the president had ripped up and thrown out. Both said they were happy to discuss the oddity of a job they began to view as a sort of punishment. They did not, however, approach a reporter with the intent to leak embarrassing information about the president. Lartey said he was fired at the end of the work day on March 23, with no warning. His top-secret security clearance was revoked, he said. Later, five boxes of his personal belongings were mailed to his home. "I was stunned," he said. "I asked them, 'Why can't you all tell me something?' I had gotten comfortable. I was going to retire. I would never have thought I would have gotten fired." He signed a pre-written resignation letter that stated he was leaving to pursue other opportunities. But he is still unemployed. Young, who was terminated April 19, said he fought back and had his official status changed from "resigned" to "terminated." "I was coerced to sign a resignation letter at that time," he said. "Then they escorted me to the garage and took my parking placard." He described the firing as traumatic and frustratingly Kafkaesque. "The only excuse that I've ever gotten from them," he said, "was that you serve at the pleasure of the president."
Bradley B Jenkins

does not have any friends yet.